HOME
CURRENT VACANCIES
CONTACT US
RENTAL APPLICATION
RENTAL INFO: 310.278.9835
TENANTS: 310.278.9815
EMERGENCY: 877.457.7443

24 HOUR MAINTENANCE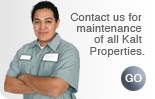 AVAILABILITY
Luxury rental properties in the Miracle Mile and Hancock Park areas of Los Angeles and Beverly Hills.

Rental/Lease Application

To apply to rent or lease a Kalt Property Management vacancy, download, fill out and fax the rental application to 310.278.9807 or fill out the secure form below. Please call 310.278.9835 with any questions. Application must be filled out completely to be submitted.